Quick Details
Place of Origin: Shanghai, China (Mainland)
Brand Name: Hitech
Model Number: ECO-Q15
Flow rate of DI water: 15L/hr
Flow rate of instant water: ≥1.5L/min
Resistivity of UP water: 16-18.2 MΩ/cm@25C'
Heavy metal ion: <0.1 ppb
Electrical Supply: 100-240V,50-60Hz/72W
Packaging & Delivery
Packaging Details: Packed by standard exporting carton
Delivery Detail: 7 days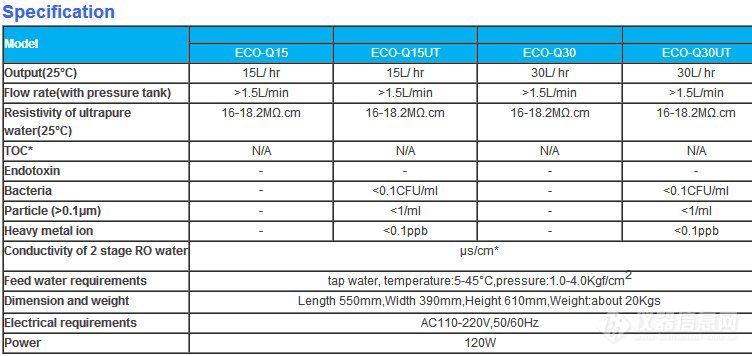 Features
Automatic microcomputer control system, multi-level menu operation
Backlit LCD screen (resolution: 128 × 64, Size: 66 × 33mm), full real-time animated display mode
2-way online sensor, detect the quality of RO water (conductivity), DI water (resistivity) respectively.
Self-flushing of the RO membrane (flushing every 2 hours), extended RO membrane life
The cartridges' life-span can be set, the time used and left can be displayed, replacing auto-reminding, avoiding the decline of water quality.
Multiple alarm functions: such as no water, full water, disqualification of feed water, RO water, DI deionized water or ultrapure water, cartridges' life-span ends.
Human engineering desingn, manual / automatic water dispense, and timing set (1-99min), water quality alarm function (if resistivity <16MΩ.cm)
System time setting function (year / month / day / hour / minute)
Level II password, protect all the parameters setting, and prohibit any unauthorized setting changes
Has indicate lamp of running, alarm, full water, all system conditions at a glance
Built-in 12 liters pressure water tank, saving laboratory space, installation and maintenance easier
Compatible two kinds of water storage tank, different external tanks(optional), to meet every need and assure ample water-supply
System circulates and sanitization system to maintain ultrapure water's quality when system is not in use. (optional)
External hidden DC24V power supply, it's lower than human security for easy maintenance replacement and ensure safety
Integrated molding plastic housing, ergonomic design, water and power independent structure
Pretreatment cartridges, RO module, ultrapure cartridges, all designed to modularization independently. Easy to maintenance and replacement.
Water pipes and fast-plug adaptor with NSF authorization, assure high quality ultrapure water
KDF pretreating cartridge, replace the ordinary active carbon, prolong the life-span to 12 months, reduce the running cost
Dow's RO membrane, ensure stable operation and high desalinization rate
4 in 1 mixed bed resin cartridge (also can be divided to 4 independent cartridge), with DOW's nuclear-grade polishing resin, ensure water's quality
254nm wavelength ultraviolet lamp module, restrain bacteria's increase and reduce TOC. (UT series.)
(0.45+0.1)μm double layer PES terminal disinfection filter, assure the quality absolutely axenic. (Optional)